Dextek Battery Products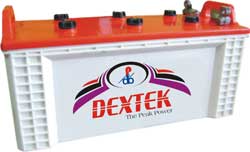 DEXTEK BATTERY PRODUCT PRIVATE LIMITED
was established in 1993 for the manufacture ofstorage batteries and accessories. The Unit has established
Full-fledged Chemical Testing and Electrical Testing Laboratories. The Quality control continuously oversees and monitors the quality of the various components and process to ensure conformity to standards. The work force is well developed to obtain the desired quality levels.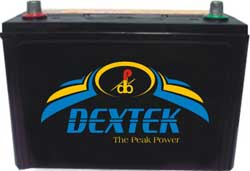 It is a Company with a vision, leadershipmission and commitment to excellence. Dextek's core pursuits and primary responsibilities are to provide superior customer satisfaction by offering unmatched product, quality, service and value through our closely knitted dealer network. Products that are cost effective, innovative and ahead of the emerging technologies.
Experience and Professionals
Dextek provides and offers superior cutting edge of electrical storage solutions to:
Industrial Business: Dextek offers innovative batterysolutions for network power applications including communication, data networks and computer control systems. Motive power battery and charger systems for electric lift trucks and material handling equipments.

With India's present skills and technological advancements emerging as the North Star in the global market and economy, Dextek envisages the presence of Dextek as the leader and pioneer in offering electrical storage solutions.
Transportation Business:

Dextek is the most sought after provider of batteries for large spectrum of transportation applications, including cars, trucks, vans, SUV's heavy-duty trucks, boats, RV's, motorcycles, golf-cars, and garden tractors including original equipment and replacementsegments

Dextek management team comprises of one of the finest technocrats, marketing and corporate management leaders